John James (James) McPhail was born on April 12, 1838, in Osnaburgh, Ontario, Canada, the son of Catherine (née McIntosh) and James McPhail.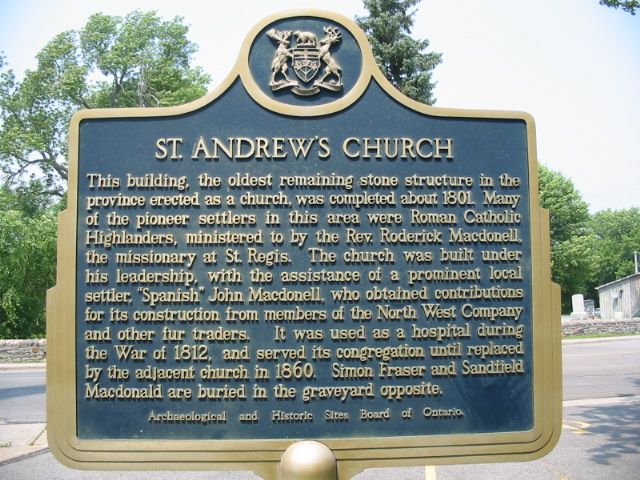 James married (believe it or not) Catherine Ann McIntosh (yes, she had the same name as his mother and may have been related) on February 15, 1863, at St. Andrew's Roman Catholic Church in St. Andrews West, Stormont, Ontario, Canada.
Catherine Ann McIntosh was born in 1845 in Osnaburgh, Ontario, Canada, the daughter of Mary (née McDonald) (?-1857) and Donald McIntosh (1802-1882).
The couple had at least eight children over the next 16 years:
Baptismal records have not been located for the couple's eldest son, John Joseph, born in 1863.
Alexander was born on January 16th and baptized in St. Andrew's Roman Catholic Church in St. Andrew's West, Stormont, Ontario, on February 12, 1865.
Mary Catherine is baptized at the same place on June 14, 1868.
Archibald James McPhail is baptized on August 15, 1870.
In 1871, we find the family in Cornwall, Ontario on the census. John is 8, Alexander 6, Mary Catherine is 2 and Archie is 8 months old. The census does not list an occupation for John Sr.
Margaret Ann is baptized on July 24, 1874.
Isabella Theresa is baptized on February 22, 1877. The baptismal record suggests she was born on the 16th.
Donald James is baptized on May 1, 1879. The baptismal record suggests he was born on April 29th.
John's date of death is unknown, but following Donald's birth, he is not found with the family on any subsequent censuses. It is likely he died between 1879-1881. A close examination of the Roman Catholic register has not identified a likely burial and no legal death record has been located.
On the 1881 census, we find the family still in Cornwall. Catherine, now widowed, is 34. John (18), Alex (15), Mary (13) are also listed. For some unknown reason, there are two listings—one for Archie (9) and one for Archibald (8). It's not clear whether this is a mistake by the census taker or perhaps this is another relative (as relationships to the head of the household are not taken for the census). Margaret is "Maggy" and Isabella is "Bella." Donald James is not listed with the family, possibly having been given to the care of another family member after the death of the family patriarch. No occupation is listed for Catherine.
In 1891, we find some of the children on the Canadian Census, but no large grouping, and I haven't been able to locate Catherine specifically.
In 1901, Catherine and Margaret (as yet unmarried) are living with Mary, who has married John Hardigan. The couple has 5 children, the youngest named for her grandmother. They are living in Montreal, Quebec. John's occupation is listed as a chauffeur.
I haven't been able to find a trace of Catherine on any further censuses. Mary Catherine is still living in Montreal in 1911, but her mother is no longer listed as living with her, and there is no burial record in the local cemetery. Margaret married in 1905 in Manitoba, but the 1916 census does not list her mother. No trace on the 1921 census either. So it's possible that she died some point following the 1911 census. Several Ancestry.com users have suggested that her death date is March 27, 1922 and that she died in Montreal. I will try to see if I can verify that through an exploration of the Quebec newspapers.
The Children
I've found very few records for John Joseph McPhail. As described above, there's no baptismal record. He appears on the 1881 census, but isn't found on any further censuses definitively (I can't link him to other family members. I haven't found a death record in Ontario either.) Similarly, although there is a baptismal record for Alexander McPhail, there are no further definitive records. There is a potential death in Washington in 1933 that describes the son of "Katherine" McIntosh and John McPhail, but I can't get a birth location without ordering the certificate.
You can use the links above to find out more about the other children.
Main Image: Cemetery at St. Andrew's Church (image via Wikimedia)
Are you related to this family? Do you have photos or stories you'd be willing to share? Please contact me using the comment form below or find me on Facebook! Want to know where this family fits in my tree? Check out the Index!