When Samuel Gardiner was born on October 17, 1859, in Deptford, Kent, England, his father, Samuel Gardiner (1822-1888), was 37 and his mother, Catharine (nee Jones) (1835-1927), was 24. He had 11 siblings.
Samuel married Teresa Monica Stevens on March 8, 1886, in Hamilton, Ontario, Canada.
Teresa Monica Stevens was born on February 10, 1861, in Heckmondwike, Yorkshire, England, when her father, James Stevens (1827-1913), was 33, and her mother, Johanna (nee McGrath) (1827-1913), was 33.
Samuel was a laborer at the time of the marriage. Witnesses were Louis Stevens (Teresa's brother) and Ellen Ryan.
I originally assumed that Samuel and Teresa met in Canada, Samuel having potentially emigrated with two of his brothers and Teresa with her parents at some point prior to the marriage. As it turns out, I have located records of their crossing and although they weren't married until several years afterwards, Samuel and Teresa may have met on the journey to Canada, or potentially traveled together with their families. Shipping records show Samuel arriving with his brother Charles on the Allan Line ship Circassian arriving in Quebec on May 19, 1880. Also on the ship are Teresa's parents, James and Johanna, as well as her siblings, Winnifred and Frank.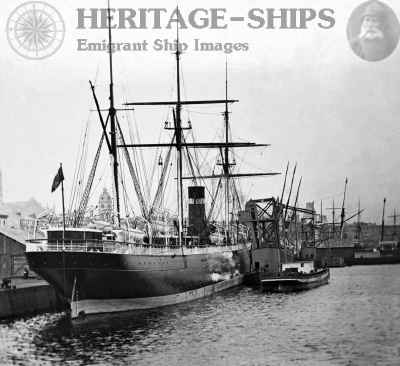 They had nine children in 15 years:
Frederick's birth followed almost exactly nine months after their marriage in Hamilton, Ontario on December 31, 1886. Samuel is a Lineman.
Hilda is born next, on August 18, 1888. In later records, she is "Hilda Mary" – likely her baptized name
Catharine Isabella (whose birth record also does not contain her second name) follows on January 1, 1890, also in Hamilton. Samuel is a Foreman by this time.
For an unknown reason, the family returns to England and is found in Hecmondwike ward, Dewsbury, Yorkshire, England on the 1891 Census. Their address appears to be "29 Lower Granville Street", but I haven't been able to identify it on any modern maps. We find Samuel, Teresa, Frederick (for some reason Frank on the census), Hilda, Catherine (Katie) and an aunt "Mary Ward" (whom I've been unable to identify, but who is likely related to Teresa as she's Irish). Samuel's job is an Electric Light Linesman. I haven't located any records of their crossing.
A shipping record from the HMS Majestic shows Teresa returning with Frederick, Hilda and "Katie". For some reason, Samuel does not appear on the record, but he likely crossed back to Canada at the same time. They departed from Liverpool to NYC on July 29, 1891.
Amy Helena is born the following year on June 29, 1892 (confirming that Samuel did return to Canada as well).
Other records indicate that Charles Ambrose was born on March 10, 1894. I haven't located a birth record.
Marion Teresa (whose birth record only indicates "Marion") is born in Hamilton on April 28, 1896. Samuel is an Electrician on the record.
Phyllis Winnifred's birth on December 14, 1897 appears on a birth registry list:
Dorothy Gardiner is born next on October 17, 1899. She died three days before her first birthday on October 14, 1900, of Tuberculosis.
In 1901, the family is living at 16 MacCauley Street West in the North End of Hamilton, Ontario, Canada (verified by Dorothy's death registration). We find Samuel, his job listed again as a Lineman, Teresa, Frederick, Hilda, Catharine, Amy, Charles, Marion and Phyllis on the Canadian Census.
Veronica Clare is born on December 29, 1902 (and I would suggest that as four of their nine children were born the week around Christmas that Samuel and Teresa celebrated their anniversaries the traditional way.)
Samuel died on April 23, 1914, in Hamilton, Ontario, Canada, at the age of 54, and was buried in Hamilton, Ontario, Canada. The cause of death was Tabes Dorsalis.
Teresa died on January 17, 1921, in Hamilton, Ontario, Canada, at the age of 59, and was buried in Hamilton, Ontario, Canada. At this time the family was living at 446 Herkimer Street.
Several of the siblings were still living together after Teresa's death on the 1921 Canadian Census at 446 Herkimer Street in Hamilton. We find Frederick, Hilda, Amy and Marion caring for their youngest sibling, Vera, who is around 11 at the time of the census. By this time, Hilda had a child, Dorothea Gardiner, born in 1914 without the benefit of marriage (no father is named on the birth registration). It is unknown where the child is at the time of the census. Frederick inherited the house after his parent's death and eventually raised his own family there.
Charles Ambrose Gardiner
Charles Ambrose (Charlie) Gardiner (Charlie) married Maude Alice Prater on January 3, 1923, daughter of John Prater and Jane (nee Lathrap). Maude was born May 13, 1892. She died on July 18, 1937. After Maude's death, Charlie remarried to Gladys Dixon. She was born in 1893 and died in 1974. Charlie outlived both of his wives, and retired from his position at the Canadian Pacific Railway. He died at the age of 95 on April 15, 1988, in Toronto, Ontario and is buried in the same plot at Park Lawn Cemetery in Toronto, Ontario (although his burial is not noted on the stone, family stories suggest that the three are buried one on top of the other). Charlie had no children with either of his wives.
Amy Helena, Marion Teresa and Veronica Clare
Amy Helena, Marion Teresa and Veronica Clare (Vera) Gardiner never married.
There is a record of Amy and Marion's border crossing in 1924 (possibly when they moved to the USA) suggesting they'll be visiting sister Catharine (who was married and living in the US at the time).
A newspaper account of Catharine's death in 1928 suggests that she was living with one of her sisters at the time – likely either Amy or Marion (or possibly both).
Amy and Marion are found rooming together on the 1930 American Census in Niagara Falls, New York, USA. Amy is a housekeeper and Marion is a proofreader at a printing plant.

Marion lived with her youngest sister Vera (who also never married) in the Niagara area of Ontario. In 1965, according to an electoral record, they were living at 4638 Fourth Avenue.
Amy died on April 25, 1959, and is buried with her sisters in Fairview Cemetery in Niagara Falls.
Marion died in January 1981.
Vera was the last surviving sibling. She died on November 2, 1994, in Niagara Falls, Ontario. The three are buried together in Fairview Cemetery in Niagara Falls in Section: R, Plot: 0179, Grave: 3.